STCC prepared physician's assistant for rigorous program at Yale University
By LAURIE LOISEL
SPRINGFIELD, Mass. – Many students at Springfield Technical Community College take their first two years toward a bachelor's degree at STCC because it saves them so much money.
For STCC alum Michael Mayo, class of 2015, saving money was just one of many reasons he earned his associate degree at STCC. Even more important to him than its affordability were the quality of teaching, the excellence among the faculty, the reputation of STCC's science offerings and the open-door, welcoming ambiance he found permeating the campus culture.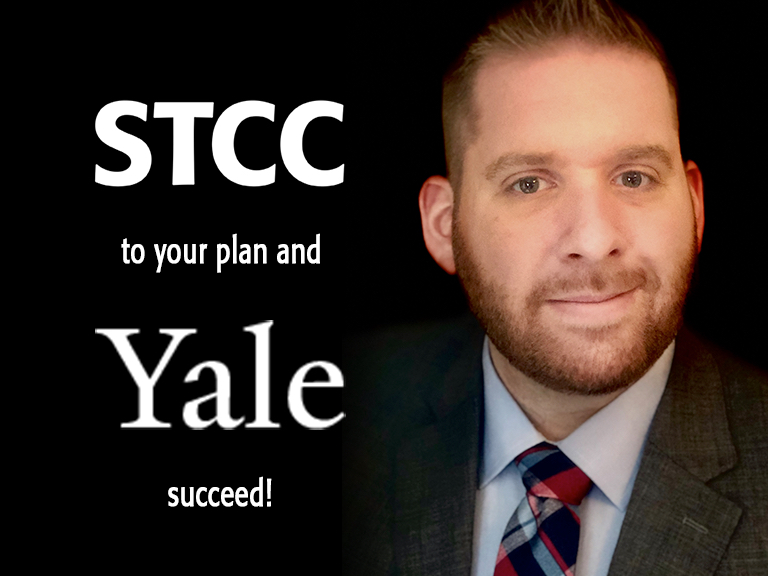 "Many acquaintances told me about STCC and how good the science courses were: as good, if not better than those in four-year institutions," said Mayo, who now works as a cardiothoracic physician assistant (PA) in the intensive care unit of St. Francis Hospital in Hartford, part of Trinity Health of New England.
His experiences at STCC confirmed its reputation was well-deserved. He graduated with an associate degree in Liberal Arts/ General Studies. Though a liberal arts major, he took many science courses at STCC (including while at Springfield College, where he earned his bachelor's degree.) By the time he was in the 27-month PA program at the University of St. Joseph in West Hartford, Mayo said he was completely prepared to handle the intensity of the program.
"I felt like I had a really good background," said Mayo, of Manchester, Conn. "There really was no difference between me and somebody that had gone to a four-year university."
Dr. Shai Butler, Interim Vice President of Advancement and External Affairs at STCC, said Mayo's story shows how STCC offers a high quality and affordable pathway to other colleges and universities.
"Mike is a shining example of how STCC can transform lives," Butler said. "We have seen other students who get their start at STCC and then go on to earn their bachelor's and master's degrees – and even a Ph.D. They can compete against the best students because of their STCC experience. We have talented and compassionate faculty who inspire our students to do their very best."
After graduating from his PA program in 2019, Mayo was among two applicants chosen from a field of 30 accepted to an 18-month residency position in emergency medicine at Yale University, where Kevin Burns, director of the Yale New Haven Hospital's emergency medicine advance practice provider residency program called Mayo "a rock star."
"I felt like I had a really good background. There really was no difference between me and somebody that had gone to a four-year university. Michael Mayo,

STCC graduate, Class of 2015
"He came in very prepared, had great clinical knowledge, great medical experience and he hit the ground running," said Burns. "He was a very strong performing resident."
In fact, Mayo was hired for a part time position at the hospital after completing the residency.
"You get trained to take care of a lot of things – the broad breadth of medicine and all of the disease processes," Mayo said of his experience at Yale's emergency medicine residency.
Mayo, 33, grew up in Mansfield, Conn. After high school, he worked as an EMT and then became a paramedic, working in the field for several years before beginning work towards his PA degree.
Because his mother had gone to American International College, the family spent time in Springfield. Mayo knew Springfield College had a good science program as well as a transfer agreement with STCC.
He spent five semesters, including taking summer classes, working toward his degree because he was also working full time.
"It was tough, but one of the nice things is I was able to fit my class schedule around my work schedule," said Mayo. He wound up taking about half his courses online and half in person.
While he took a host of STEM courses at STCC, including physics, organic chemistry, microbiology, calculus and statistics, he also enrolled in arts and humanities courses that he found enthralling, among them history of witchcraft, women in literature, intro to music and library science. He liked the flexibility to essentially build his own liberal arts major based on what classes intrigued him.
"The course offerings at STCC are really so vast," he said. "I was able to stay engaged in all of the classes I wanted to take rather than just the science classes."
Even at Springfield College, where Mayo earned a bachelor's degree in sports biology, he did not leave STCC behind. While enrolled there, he took a biology class, two organic chemistry classes and a microbiology class at STCC.
He found the quality of instruction and the level of personal attention paid to STCC students more than lived up to his expectations.
"Professors were so dedicated to students and making sure they really understood the material," he said. "They were able to really spend time with each student and understand what their strengths are and also their deficits so they can focus on that."
Now caring for patients in an ICU and assisting in the operating room for cardiothoracic procedures such as open-heart surgery, he is in a field that he says, "makes amazing contributions to the medical field."
But he will never forget the role STCC played in helping him get where he is today.
"I wish it was a four-year institution," said Mayo. "I would have just stayed."
Interested in applying to STCC? Visit stcc.edu/apply or call Admissions at (413) 755-3333.
About Springfield Technical Community College
STCC, the Commonwealth's only technical community college, continues the pioneering legacy of the Springfield Armory with comprehensive and technical education in manufacturing, STEM, healthcare, business, social services, and the liberal arts. STCC's highly regarded workforce, certificate, degree, and transfer programs are the most affordable in Springfield and provide unequalled opportunity for the vitality of Western Massachusetts. Founded in 1967, the college – a designated Hispanic Serving Institution – seeks to close achievement gaps among students who traditionally face societal barriers. STCC supports students as they transform their lives through intellectual, cultural, and economic engagement while becoming thoughtful, committed and socially responsible graduates.
MEDIA CONTACT:
Jim Danko, (413) 755-4812, jdanko@stcc.edu