STCC professors to work on intellectual property education initiative
SPRINGFIELD, Mass. – Two Springfield Technical Community College professors have been selected to work on an intellectual property educational initiative over the next two years – an effort that could help Western Massachusetts business owners better understand how to protect their creative and original ideas.
STCC is one of only five colleges nationwide with faculty accepted into the Michelson IP (Intellectual Property) Educator in Residence Initiative.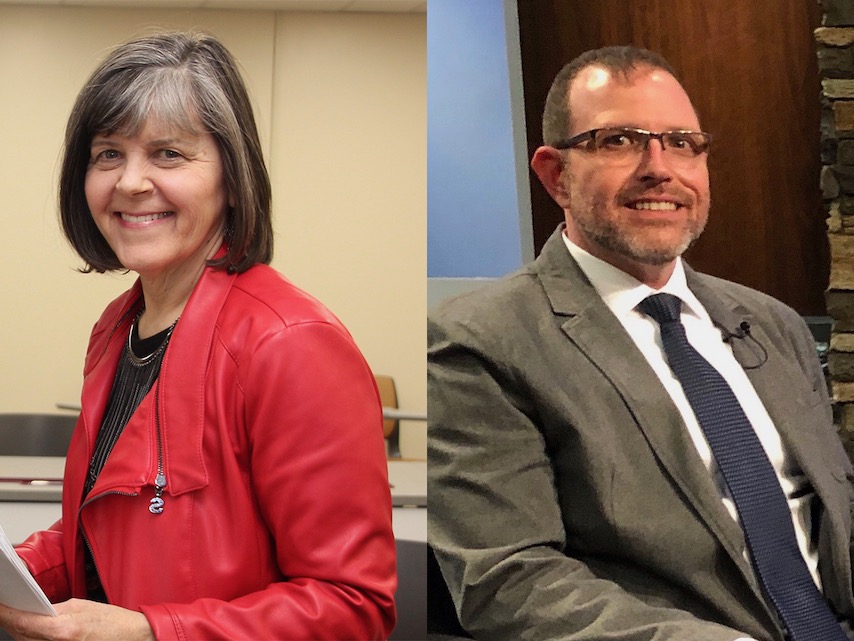 The National Association for Community College Entrepreneurship (NACCE), in a collaboration with The Michelson Institute for Intellectual Property, selected STCC business professor Diane Sabato and Honors Program Director John Diffley, an attorney and history professor.
Sabato and Diffley will collaborate with four other educators over the next two years focusing on a mission to deliver intellectual property education. They join faculty from institutions in New Jersey, Florida, California and New Mexico.
Intellectual property refers to inventions and human creations such as literary and artistic works, designs, symbols and names and images used in commerce.
"The initiative's goal is to embed this information in 10 events, which might include workshops and courses," Sabato said. "There are very loose boundaries on the type of offering. They just want to spread IP education as widely as possible."
STCC has a long and storied history of entrepreneurship and innovation, while housed in what was historically a thriving center of innovation – the Springfield Armory. Diane Sabato,

STCC business professor
Sabato noted the initiative promotes and supports innovation and creativity, honoring the long and rich history of innovation and invention in Springfield and specifically at the Springfield Armory. STCC's campus is located on the site of the Springfield Armory National Park.
"STCC has a long and storied history of entrepreneurship and innovation, while housed in what was historically a thriving center of innovation – the Springfield Armory," said Sabato, who has taught classes focused on invention, entrepreneurship and innovation, including intellectual property content.
She will cover intellectual property concepts in a new entrepreneurship class at STCC this spring. STCC's business program, part of the School of Liberal Arts and Professional Studies, is designed for students who want to obtain an associate degree before starting a career in business or who plan to transfer to a four-year college or university and continue their education.
"I always get asked by entrepreneurs when they are starting their business – it could be a food truck, it could be a bakery, it could be anything – what do I need to do to protect myself? Do I have to file trademarks, copyrights, or service marks, and when do I need to file them?" Sabato said.
Sabato said many entrepreneurs don't know the basics of intellectual property. "There's not a great place to get good answers," she said.
Diffley brings the historical perspective of Springfield as an innovation hub and the capacity to implement campus-wide initiatives, initially, through the Honors Program.
"We are both members of broader based community initiatives and partnerships from high schools to four year colleges to the Greater Springfield area," Diffley said.
Richard Greco, dean of the School of Liberal Arts and Professional Studies, said Sabato and Diffley both bring strong experience to their roles.
"They both have a passion for innovation and would love to see Springfield and the Pioneer Valley become an innovation hub once more," Greco said.
NACCE, in partnership with the Michelson Institute for Intellectual Property (Michelson IP), an initiative of the Michelson 20MM Foundation (20MM), in September announced the acceptance of STCC and the other four institutions into the newly launched IP Educator in Residence Initiative. The Michelson Institute for Intellectual Property (Michelson IP) addresses critical gaps in intellectual property education to empower the next generation of inventors and entrepreneurs.
"In today's knowledge economy, it is critically important for aspiring entrepreneurs, inventors, and makers to understand how to leverage IP rights. That means managing the protection, sharing, and commercialization of their ideas and creative works," NACCE stated.
NACCE is an organization of educators, administrators, presidents and entrepreneurs focused on igniting entrepreneurship in their communities and campuses. NACCE has over 340 member colleges, representing nearly 2,500 members and approximately 3.3 million students.
STCC played a key role in the founding of the NACCE organization in 2002. STCC created the Entrepreneurial Institute, which focused on various aspects of entrepreneurship education. The STCC initiative drew interest from other community colleges, leading to the idea of NACCE.
Interested in applying to STCC? Visit stcc.edu/apply or call Admissions at (413) 755-3333.
About Springfield Technical Community College
STCC, the Commonwealth's only technical community college, continues the pioneering legacy of the Springfield Armory with comprehensive and technical education in manufacturing, STEM, healthcare, business, social services, and the liberal arts. STCC's highly regarded workforce, certificate, degree, and transfer programs are the most affordable in Springfield and provide unequalled opportunity for the vitality of Western Massachusetts. Founded in 1967, the college – a designated Hispanic Serving Institution – seeks to close achievement gaps among students who traditionally face societal barriers. STCC supports students as they transform their lives through intellectual, cultural, and economic engagement while becoming thoughtful, committed and socially responsible graduates.
MEDIA CONTACT:
Jim Danko, (413) 755-4812, jdanko@stcc.edu