STCC recognizes International Education Week
'Carberry Conversations' wraps up with talk featuring art student Kimani Worghs
SPRINGFIELD, Mass. – In recognition of International Education Week, Springfield Technical Community College's Carberry Conversations wraps up on Wednesday, Nov. 16, with a virtual conversation with Kimani Worghs, an STCC graduate and Parsons School of Design student.
The event will be held 12:15 p.m.-1 p.m. and will also include Sondra Peron, associate professor and coordinator of the STCC Amy H. Carberry Fine Arts Gallery.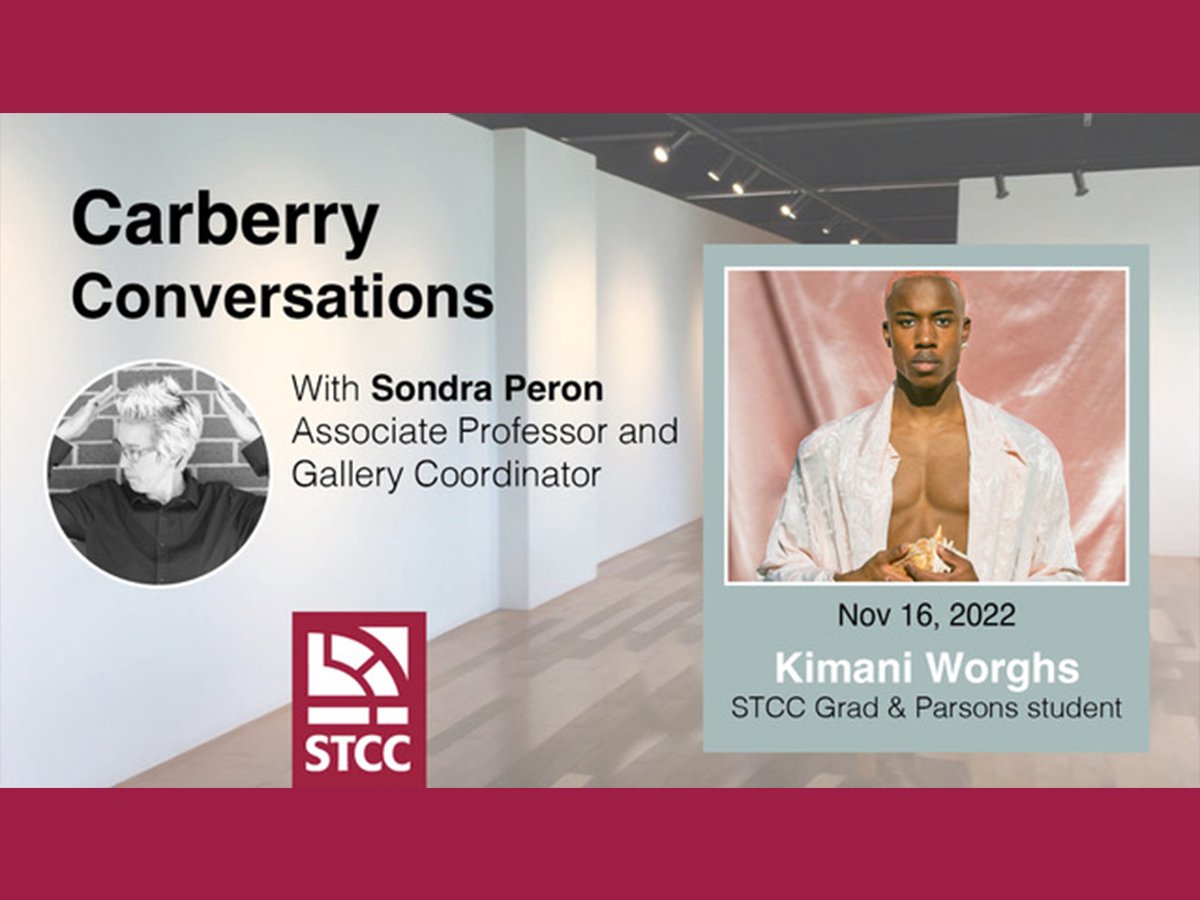 Engaged, resilient, and global: These are three words used as points of emphasis as International Education Week (Nov. 14-18) celebrates and promotes the benefits of international education and cultural exchange. This joint initiative between the US Dept. of the State and the US Dept. of Education seeks to foster opportunities for global education and exchange.
Engaged, resilient and global also describe Worghs. Boasting a rich heritage from Ghana, Jamaica, and England, Worghs, 22, knows the struggle, heartbreak and redemption that the past three years can deliver.
After seeking to return to England to study in London in 2020, Worghs used his days under "quarantine" by aiming his camera on himself, friends and family. He also photographed local Black Lives Matter protests that same year and refocused his artistic energy on fashion.
After the death of his grandfather during the pandemic, Worghs traveled to Jamaica with camera in hand to capture the spirit of a country and enrich himself in the culture. Now a student at Parsons School of Design in New York City, he still calls Springfield home.
Join this special edition of Carberry Conversations, as Peron and Worghs discuss the importance of family, the influence of the pandemic on Worgh's creative output, his response to the BLM movement, challenges with publishing his new book, Ascension, how a trip to Jamaica was personally transformative, and his current studies at the Parsons.
Visit stcc.io/conversations to register for the Wed, Nov 16, 12:15 pm-1 pm Zoom interview. All "Carberry Conversations" are free and open to the public via Zoom.
"Carberry Conversations" is a series of virtual talks throughout the academic year between Peron and artists, authors, and photographers. Conceived in response to the ongoing pandemic, these virtual interviews function as a space to connect creative people to STCC and the Greater Springfield community covering a wide variety of topics including, origin stories, the impact of current events on artistic process, and the function of art and photography during times of crisis.
For more information about upcoming gallery events, visit stcc.edu/campus-life/arts-culture/amyhcarberrygallery/
The gallery and associated events are supported in part by the School of Liberal and Professional Studies (LAPS) and the Fine Arts (A.A.) program
Interested in applying to STCC? Visit stcc.edu/apply or call Admissions at (413) 755-3333.
About Springfield Technical Community College
STCC, the Commonwealth's only technical community college, continues the pioneering legacy of the Springfield Armory with comprehensive and technical education in manufacturing, STEM, healthcare, business, social services, and the liberal arts. STCC's highly regarded workforce, certificate, degree, and transfer programs are the most affordable in Springfield and provide unequaled opportunity for the vitality of Western Massachusetts. Founded in 1967, the college – a designated Hispanic Serving Institution – seeks to close achievement gaps among students who traditionally face societal barriers. STCC supports students as they transform their lives through intellectual, cultural, and economic engagement while becoming thoughtful, committed and socially responsible graduates.
MEDIA CONTACT:
Jim Danko, (413) 755-4812, jdanko@stcc.edu