STCC student leaders find support from college resources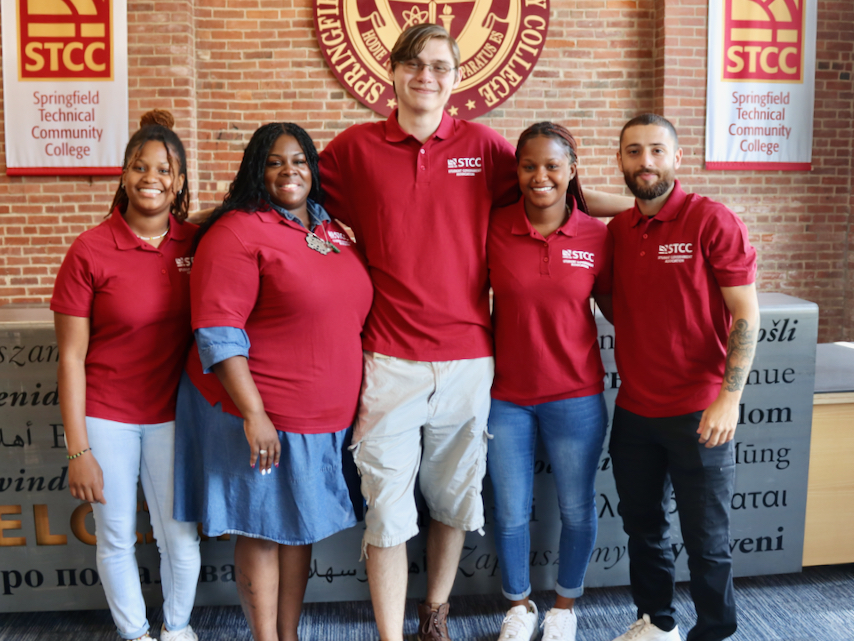 STCC student leaders include, from left: Zoyie Plunkett-Dunkelly, treasurer; Sharay Salters, vice president; David Panchenko, president; Zoya Plunkett-Brown, student representative to Board of Trustees; and Michael Arillotta, club liaison.
SPRINGFIELD, Mass. – Springfield Technical Community College's new student leaders like to be involved and take advantage of college resources to help them succeed.
David Panchenko, elected president of the Student Government Association, is the first in his family to pursue a college degree. Now entering his second year, he is active in TRIO Student Support Services (TRIO), which helps first-generation college students by providing a variety of support.
He also is part of the Male Initiative for Leadership and Education (MILE) program, a network for male students. When he first arrived on campus, he participated in the STEM Starter Academy Summer Bridge program, which gives students a head start.
"I didn't know how college worked," Panchenko said. "All of these programs helped me out."
A Chicopee resident, Panchenko was accepted into the Dental Hygiene program.
"I'm excited to serve as president," Panchenko said. "I've been listening to students and want to help make STCC a great experience for them."
Also elected to a key leadership position is Zoya Plunkett-Brown, who is serving as the student representative to the Board of Trustees. She joined Lead, a leadership and mentorship program that gives female students the opportunity to take an active role in their leadership development and educational journey. She played on the STCC soccer team and served as captain..
"What I love about STCC are the opportunities the school provides," Plunkett-Brown said. "I know that STCC is a good school. It has good programs, but it also gives me a lot of exposure."
What I love about STCC are the opportunities the school provides. Zoya Plunkett-Brown,

Student representative to Board of Trustees
Plunkett-Brown has a twin sister, Zoyie Plunkett-Dunkelly, who also attends STCC. They moved to Springfield from Jamaica in 2015.
Zoya Plunkett-Brown is pursuing a degree in the Physical Therapist Assistant program.
"I'm looking forward to meeting students on campus at all the events we have planned," she said. "I'm honored to serve as Trustee."
Sharay Salters of West Springfield, who was elected vice president, came to STCC in 2022 when she decided she wanted a degree to advance in her career. She found support from the TRIO program as well as Lead. She's enrolled as a Business Transfer student and hopes to seek her bachelor's degree after graduating from STCC.
Salters is working for the Lead program and mentoring other students. "I can now offer the support that I received when I started my journey at STCC," she said.
Salters said fellow student Zoya Plunkett-Brown inspired her to get involved in the SGA and run for office.
"She has always been a pinnacle," Salters said. "I've seen so much of a go-getter attitude inside of her."
Students should be aware of the many resources at STCC, including the Center for Access Services (CAS), Salters said.
"CAS helped me with toothpaste and other household items when I needed it," she said. "They helped me enroll in two different programs, and provided support outside of academics."
It's not only the services and programs at STCC that Salters says help boost students, but it's also the faculty and staff. She cited Business Administration Professor Eileen Cusick, who provided support as an advisor during her first year.
"I think one of the highlights of being here at STCC is the support from the faculty and staff," she said. "When you're feeling down and out, you have people who will catch you. You have people who help you move forward and are looking at opportunities for you that you might not know are available."
Vice President of Student Affairs Darcey Kemp said STCC offers a wide range of support services for students. In addition to the CAS, TRIO, Lead and MILE, students can find tutoring services, career coaching and mental health counseling. The college provides disability services and opportunities for scholarships and awards.
"We encourage students to take advantage of the services and opportunities at STCC. They're here to support students so they can achieve success," Kemp said. "Congratulations to our student leaders for their achievements. They are shining examples of how our resources at STCC can make a real difference."
Interested in applying to STCC? Visit stcc.edu/apply or call Admissions at (413) 755-3333.
About Springfield Technical Community College
STCC, the Commonwealth's only technical community college, continues the pioneering legacy of the Springfield Armory with comprehensive and technical education in manufacturing, STEM, healthcare, business, social services, and the liberal arts. STCC's highly regarded workforce, certificate, degree, and transfer programs are the most affordable in Springfield and provide unequaled opportunity for the vitality of Western Massachusetts. Founded in 1967, the college – a designated Hispanic Serving Institution – seeks to close achievement gaps among students who traditionally face societal barriers. STCC supports students as they transform their lives through intellectual, cultural, and economic engagement while becoming thoughtful, committed and socially responsible graduates.
MEDIA CONTACT:
Jim Danko, (413) 755-4812, jdanko@stcc.edu