STCC student-teachers connect with Springfield's High School of Science and Technology
SPRINGFIELD, Mass. – Current and former Springfield Technical Community College students finishing pre-teaching internships at the High School of Science and Technology reflected on their experience connecting with local high school teachers and students.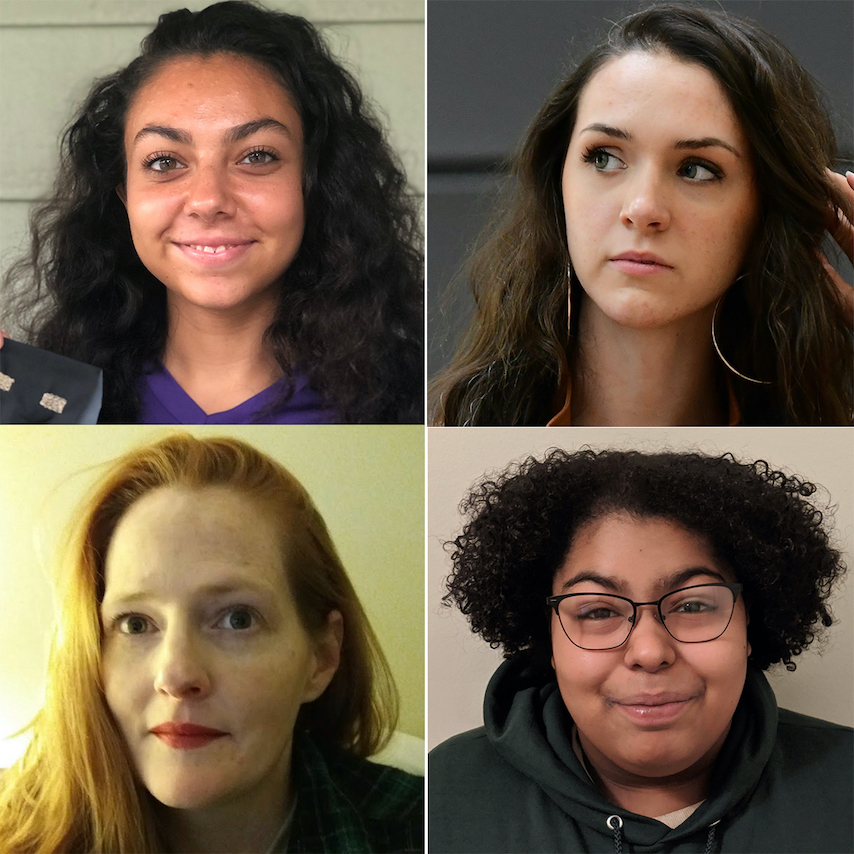 The five student interns who are part of the STEM Starter Academy at STCC include Oliwia Bragiel and Emerson Alexander, recent graduates of STCC who are tutors at SSA, and current STCC students Maureen Burke, Lyly Dixson and Danyari Rodriguez.
They will discuss their experience in a Zoom presentation session Thursday at 11:15 a.m. To request a Zoom invite to watch the presentations, email Reena Randhir, director of the STEM Starter Academy at STCC: rrandhir@stcc.edu.
A partnership between STCC and the Springfield Public Schools, the STEM education internship involved a semester-long collaboration with a high school STEM teacher. Students collaborated with teachers. They had an opportunity to observe science, technology, engineering and mathematics (STEM) courses such as biomedical science and computer science.
Among other activities, the student interns developed a STEM education career plan in consultation with a teacher, STCC STEM Starter Academy advisor and university partner.
In addition, the interns learned about effective pedagogy through classroom observations, daily reflective debrief sessions and opportunities to plan and lead pieces of classroom lessons.
This internship has been an incredible opportunity to learn the skills necessary for a successful STEM teaching career. Maureen Burke,

STCC student
"This unique internship has provided our future STEM teachers first-hand knowledge about what inspiring STEM teaching is," Randhir said. "It has also molded their attitudes and values associated with efficient teachers who transform lives. We are grateful to Sci-Tech Teacher Jennifer Cherry, Science Director of Springfield High Schools Ron St. Armand, and the state Department of Higher Education for providing this opportunity."
STCC student Lyly Dixson, of Springfield, a computer information technology major, said the internship helped her think critically about the parts of a class where students might have trouble with the material, and find ways to make the information more accessible.
"The program materials allowed me to work on developing flexibility with lesson planning," she said.
Dixson was impressed with how Cherry – one of the teachers – used a see-through mask and closed captions for classes to assist students with visual or hearing impairments.
"I had thought teaching was supposed to be extremely planned and regimented, but this class also helped me learn to be more easy-going at times too," she said.
Added student Maureen Burke, of Agawam, a computer and IT security major: "This internship has been an incredible opportunity to learn the skills necessary for a successful STEM teaching career.
"I am impressed and inspired with how passionately our experienced mentor Ms. Jennifer Cherry connects with her students and interns to impart the skills of STEM teaching and learning," Burke added. "I excitedly looked forward to all the classes, especially the 7:50 a.m. biomedical class. Ms. Cherry made the class fun and effective during one of the most challenging times in history."
The third current student, Danyari Rodriguez, of Springfield, plans on majoring in electrical engineering technology.
Cherry said she was thrilled to partner with STCC and work with the students.
"I was so excited when Reena and Ron approached me about collaborating on this project because the need for teachers in the STEM fields is growing, and this gave me the opportunity to share and infuse my passion for teaching into a group of prospective teachers," she said.
The student interns were women, which Cherry said is important to bring more diversity into the field. "I think it is completely amazing, considering men typically dominate STEM occupations," Cherry said. "So, even if these women don't continue on to pursue a career in teaching, they are helping to close the gender gap in STEM fields."
Interested in applying to STCC? Visit stcc.edu/apply or call Admissions at (413) 755-3333.
About Springfield Technical Community College
STCC, the Commonwealth's only technical community college, continues the pioneering legacy of the Springfield Armory with comprehensive and technical education in manufacturing, STEM, healthcare, business, social services, and the liberal arts. STCC's highly regarded workforce, certificate, degree, and transfer programs are the most affordable in Springfield and provide unequalled opportunity for the vitality of Western Massachusetts. Founded in 1967, the college – a designated Hispanic Serving Institution – seeks to close achievement gaps among students who traditionally face societal barriers. STCC supports students as they transform their lives through intellectual, cultural, and economic engagement while becoming thoughtful, committed and socially responsible graduates.
MEDIA CONTACT:
Jim Danko, (413) 755-4812, jdanko@stcc.edu