STCC's programs, activities energize international student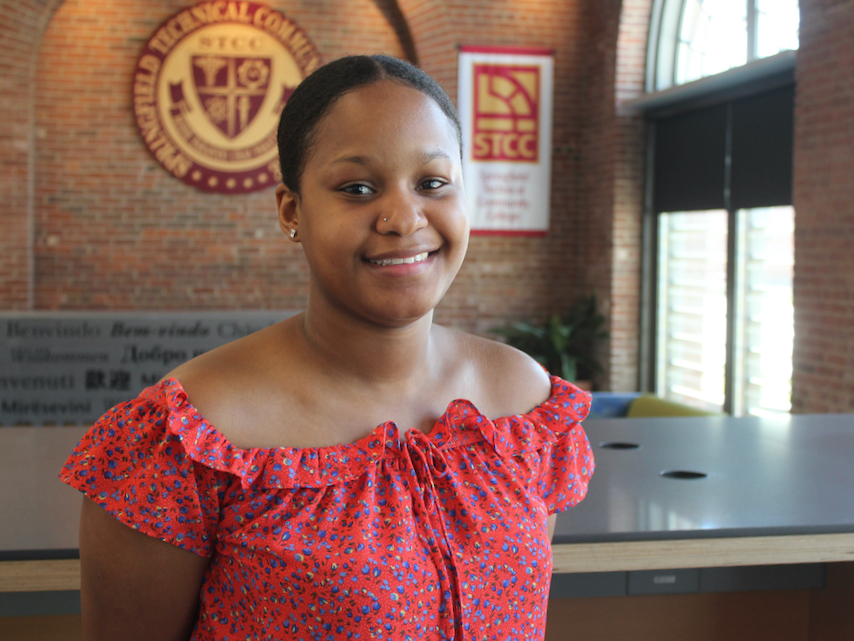 SPRINGFIELD, Mass. – As a Springfield Technical Community College student, Zoya Plunkett seizes the opportunities around her – from joining the soccer team to participating in a leadership program for women.
"What I love about STCC are the opportunities the school provides," Plunkett said. "I know that STCC is a good school. It has good programs, but it also gives me a lot of exposure."
Plunkett, a Springfield resident originally from Jamaica, in May was elected as the Student Government Association vice president and will serve during the next academic year. She already was active outside of her schoolwork.
She was captain of the STCC women's soccer team this past fall, which she said gave her an opportunity to sharpen her leadership skills. She joined LEAD, a leadership and mentorship program that gives female students the opportunity to take an active role in their leadership development and educational journey.
With LEAD, Plunkett was able to visit other colleges with other STCC students. She went on a field trip to Bay Path University in Longmeadow.
She recalled getting inspired when a guest speaker visited students to help develop their public speaking skills.
"STCC has given me a lot of opportunities to get out of my shell," Plunkett said.
Karolyn Burgos Toribio, student success navigator for LEAD and a STCC alumna who graduated in 2019, described Plunkett as very caring and "proactive."
What I love about STCC are the opportunities the school provides. Zoya Plunkett,

STCC student
"Zoya is very dedicated to her education and never afraid to ask for help when needed," said Burgos Toribio, who served as student representative on the Board of Trustees. "She is proactive about her self-development by taking on new opportunities, and showing up for events or workshops to stay involved. I am very excited and proud to see her take on this leadership role, and I know that she will do an amazing job and get a lot out of the experience."
Plunkett and her twin sister, Zoyie Plunkett, moved from Jamaica to Springfield in 2015 to live with their father. The Plunketts both graduated from the Springfield Renaissance School. Zoyie also enrolled at STCC after high school, but is taking off this spring semester and plans to return in the fall. The sisters, now 22, both hope eventually to enroll in the physical therapy assistant program.
Zoya said she wants to continue her education after STCC and dreams of getting her doctorate in physical therapy.
"I am an athlete and I want to work with people," she said. "I didn't want to become a professional athlete, so I asked myself, 'What can I do where I can be a part of sports and help people?'"
She sees STCC as affordable for international students like herself. She's also impressed with the quality of the education.
"I knew as a community college, the cost would not be as high as a four-year school," she said. "So far, STCC has been good. Everyone has been supportive and encouraging. It's a great place to start an education, get involved and develop useful skills."
Interested in applying to STCC? Visit stcc.edu/apply or call Admissions at (413) 755-3333.
About Springfield Technical Community College
STCC, the Commonwealth's only technical community college, continues the pioneering legacy of the Springfield Armory with comprehensive and technical education in manufacturing, STEM, healthcare, business, social services, and the liberal arts. STCC's highly regarded workforce, certificate, degree, and transfer programs are the most affordable in Springfield and provide unequaled opportunity for the vitality of Western Massachusetts. Founded in 1967, the college – a designated Hispanic Serving Institution – seeks to close achievement gaps among students who traditionally face societal barriers. STCC supports students as they transform their lives through intellectual, cultural, and economic engagement while becoming thoughtful, committed and socially responsible graduates.
MEDIA CONTACT:
Jim Danko, (413) 755-4812, jdanko@stcc.edu