Student finds the right fit at STCC after a semester at elite 4-year college
SPRINGFIELD, Mass. – After spending a semester at Amherst College, Christopher Goossens transferred to Springfield Technical Community College. It didn't take long for him to fall in love with the STCC experience.
He settled into one of the classes in the Digital Media Production program at the beginning of the spring semester in 2020. His spirit soared. He had spent the previous fall semester at one of the most prestigious four-year institutions in the nation, but felt it wasn't the right fit.
The community college not far from his hometown of Hampden was a fraction of the cost and offered a selection of courses that inspired him.
"I didn't have a good experience in college," Goossens said, recalling his time at Amherst. "Starting at STCC, I was a little bit reserved, but all that went away when I was in class. The teachers are all amazing people. They're kind, they care and they're actually involved. They show genuine concern."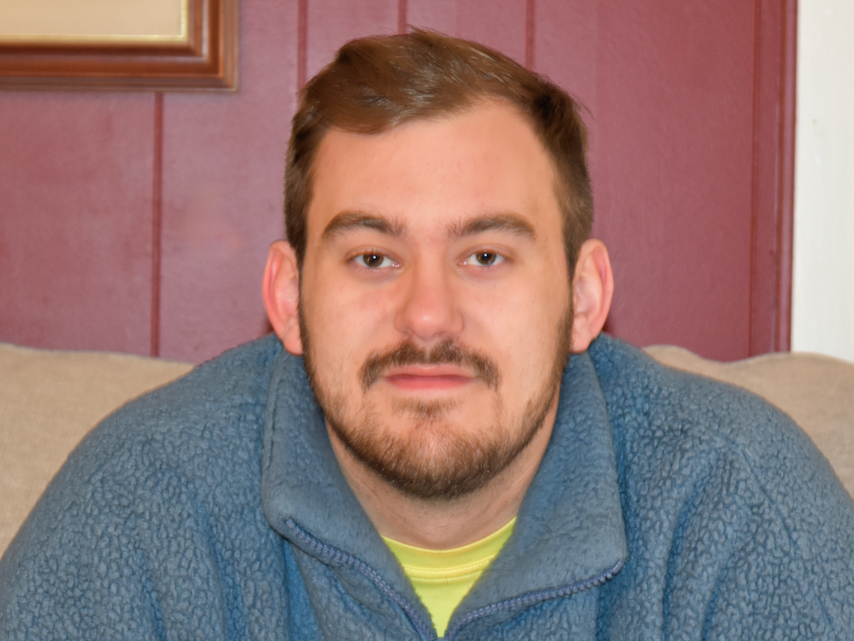 Goossens' comments echo the words of many students who cite the faculty's connection and commitment to supporting them as a main reason they love STCC. But the journey that led Goossens to STCC is unlike any of his classmates.
Before he considered STCC, Goossens was a star baseball player at Minnechaug Regional High School. The University of Hartford, a Division 1 college, recruited him, which meant he would be competing against the country's best college baseball players. But he was losing his passion for the game. After graduating from Minnechaug in 2018, he enrolled at Phillips Academy in Andover, an elite boarding school, for a post-grad year.
"It went great," he said. "From there, I thought I might give baseball another go. I decided to commit to Amherst College."
Goossens said he kept up his grades at Amherst, but chose to withdraw early in the second semester. That was in March 2020, just as the COVID-19 pandemic was declared and many colleges were sending students home for online instruction.
STCC, like most colleges, restricted access to campus during the pandemic, but in the summer of 2020 allowed some students to study on campus in socially distanced, low-density labs.
STCC offers affordability and hands-on experiences
Goossens said he was thrilled to have a hands-on learning experience in a program that inspired him. A big part of his decision was the cost of STCC, which is the most affordable college in Springfield, and far less expensive than private colleges.
According to its website, the cost of Amherst College's tuition, room and board for 2020-2021 is $75,800, about 11 times the price tag for STCC.
At STCC, a student who is living in state would pay $6,846 for 2020-2021 (tuition and fees for 30 credits), according to the STCC website.
Goossens said he enjoys his online classes, but loves going to campus to work on projects with the equipment. He is seeking an associate degree in the Communication and Digital Media Transfer program.
Starting at STCC, I was a little bit reserved, but all that went away when I was in class. The teachers are all amazing people. They're kind, they care and they're actually involved. They show genuine concern. Christopher Goossens,

STCC student who transferred from Amherst College
"I wanted to do something fun," he said, noting that the STCC program offers an ideal blend of technology and media. "The classes looked really engaging. They're enjoyable; you're not miserable. Not to bash other places, but with some classes, you're wondering, why am I learning this? What will this do for me? I've used everything I've learned at STCC, and I haven't even graduated yet."
On top of his studies, he has worked as a writer and helped with social media for a hip hop company, which connects with his lifelong love of music.
Goossens said with a laugh, "I can't rap, I can't sing, but I can write about it."
He hopes to graduate this summer with an associate degree. The STCC program is part of the MassTransfer block which means he can transfer his credits to a state university or one of the University of Massachusetts campuses at a fraction of the cost of a private college.
Goossens is not sure if he will start his career after leaving STCC or continue on to get a bachelor's degree. But he's happy to have the options.
"I'm not even graduated yet, and I've already gotten work from this program," Goossens said. "I have opportunities to work with people in the music industry that I didn't have before."
Digital Media Production offers opportunities to transfer or find rewarding work
John Wakelin, a professor in the Digital Media Production program, said Goossens has a bright future.
"He's good at media in general and communications," Wakelin said. "He's self-motivated, and he's finding jobs out there."
Wakelin said the Digital Media Production program emphasizes hands-on experiences and connects students with faculty who have industry experience.
"The two plus two program (two years to receive an associate degree and two years to receive a bachelor's degree) opens the door to an affordable degree," Wakelin said. "If he wants to jump into the workforce after STCC, he can, but he's also guaranteed enrollment at a state university like UMass in Amherst or Westfield State University. It's a great opportunity."
Wakelin said everyone at STCC works together to help students succeed.
"That's why I love my job here," Wakelin said. "You get students like Chris who come in after experiencing a private four-year college and you can work with him. We offer small class sizes. Students in our classes make things using state-of-the-art equipment. We're working together, and I think that's an important part of what we're trying to do here."
Interested in applying to STCC? Visit stcc.edu/apply or call Admissions at (413) 755-3333.
About Springfield Technical Community College
STCC, the Commonwealth's only technical community college, continues the pioneering legacy of the Springfield Armory with comprehensive and technical education in manufacturing, STEM, healthcare, business, social services, and the liberal arts. STCC's highly regarded workforce, certificate, degree, and transfer programs are the most affordable in Springfield and provide unequalled opportunity for the vitality of Western Massachusetts. Founded in 1967, the college – a designated Hispanic Serving Institution – seeks to close achievement gaps among students who traditionally face societal barriers. STCC supports students as they transform their lives through intellectual, cultural, and economic engagement while becoming thoughtful, committed and socially responsible graduates.
MEDIA CONTACT:
Jim Danko, (413) 755-4812, jdanko@stcc.edu