A passion for computers draws student to STCC cybersecurity program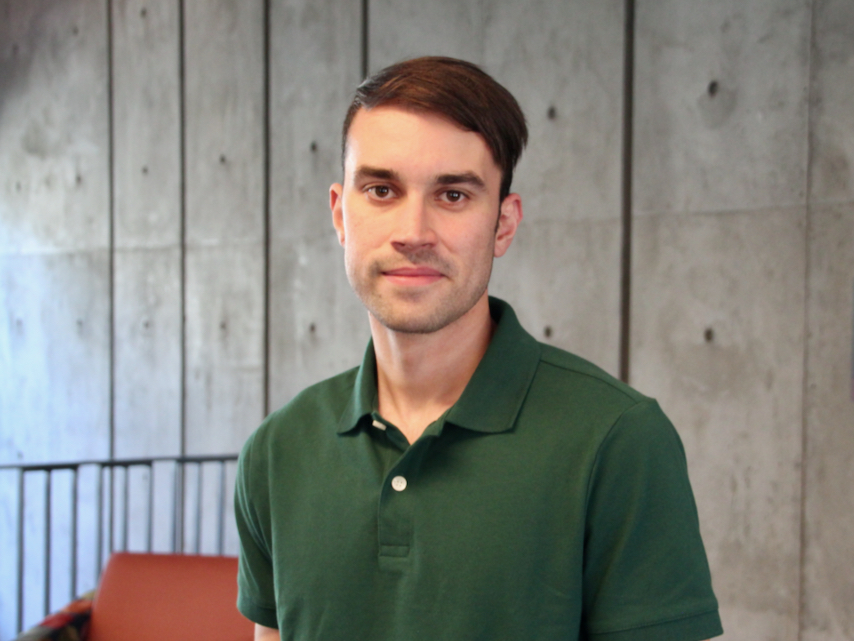 SPRINGFIELD, Mass. – Jackson Perez was always "a computer kid."
"I'd come home from school. I'd hop right on the computer. I'd be on it for five, six hours," Perez said.
When he came to Springfield Technical Community College, he enrolled in the Physical Therapy Assistant health program. But he did not feel it was a good fit for him. His mother, Shana Perez, who is a professor at STCC, suggested her son try out a program that matched his passion for computers: Cybersecurity.
Perez, 22, of Windsor Locks, Conn., was instantly hooked. He couldn't see himself in any other major. Cybersecurity Professor Brian Candido asked Perez to work as his supplemental instructor (SI). As an SI, he tutors other students in Candido's computer classes. He gets excited seeing other students finding the "aha" moment that he had when he took the class.
He also landed an internship at the cybersecurity company TOSS C3. He started in November 2022 as their first intern. Perez credits the STCC professors with offering support and ultimately getting him his internship.
"They're a great company," he said. "They handle data for companies. I've loved it so far. I've learned so much from them in only one week. I'm thankful they are giving me this opportunity to get experience."
Perez said students in cybersecurity get support from professors that include Candido, who teaches operating systems classes and programming classes, Jason Alves, an assistant professor computer technologies who teaches upper level information security classes, and Professor Wesley Crouch teaches networking.
We encourage our students to get internships, which gives them experience outside of the classroom. Brian Candido,

Cybersecurity Professor
Candido said he's thrilled to see Perez taking advantage of opportunities and excelling.
"We encourage our students to get internships, which gives them experience outside of the classroom," Candido said. "In the cybersecurity field, experience is key to finding a job. With his experience as an SI and his internship, Jackson is on the path to a rewarding career in cybersecurity."
Perez added, "Without Brian, I wouldn't be even close to where I am now."
Perez hopes to earn his associate degree in cybersecurity and a certificate in programming. He's learning programming languages that can help him build websites. In the cybersecurity program, he's finding out how to hack into networks, knowledge that helps him understand how to protect companies that are facing security threats.
Perez this fall spoke at the Massachusetts Municipal Cybersecurity Summit with STCC's Vice President and Chief Information Officer Mary Kaselouskas, who touted the Western Mass Cybersecurity Center of Excellence at Springfield Union Station.
STCC is working with the Springfield Redevelopment Authority and the Mass Tech Collaborative to establish a Cyber Range and Security Operations Center (SOC) at the City of Springfield's Union Station, serving Western Massachusetts and beyond. In addition to supporting the cybersecurity needs of regional municipalities, businesses, and non-profits, the Center will provide valuable hands-on training and career experience for students and will be a unique draw to attract a diverse workforce to the profession.
Perez said cybersecurity students will benefit from the experience that the Western Mass Cybersecurity Center will provide.
"The SOC they are planning will give students who go to STCC the experience they need," Perez said. "It will instantly boost their resume above so many people. That SOC will not only give them the experience but put them in the real world situation and see what they will be doing for the rest of their lives if they like this career path."
Interested in applying to STCC? Visit stcc.edu/apply or call Admissions at (413) 755-3333.
About Springfield Technical Community College
STCC, the Commonwealth's only technical community college, continues the pioneering legacy of the Springfield Armory with comprehensive and technical education in manufacturing, STEM, healthcare, business, social services, and the liberal arts. STCC's highly regarded workforce, certificate, degree, and transfer programs are the most affordable in Springfield and provide unequaled opportunity for the vitality of Western Massachusetts. Founded in 1967, the college – a designated Hispanic Serving Institution – seeks to close achievement gaps among students who traditionally face societal barriers. STCC supports students as they transform their lives through intellectual, cultural, and economic engagement while becoming thoughtful, committed and socially responsible graduates.
MEDIA CONTACT:
Jim Danko, (413) 755-4812, jdanko@stcc.edu