New dean at STCC makes a connection with her students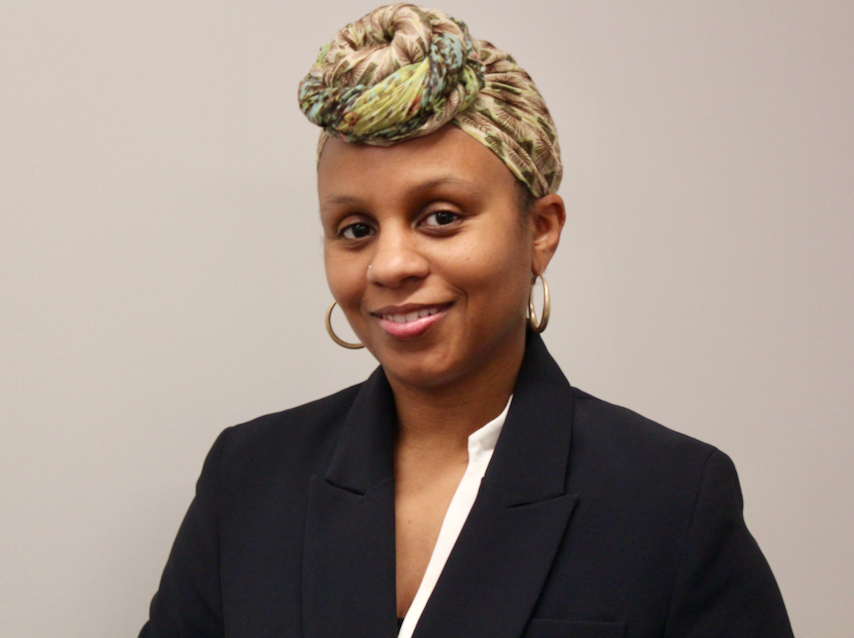 Born and raised in Springfield, Dr. Kiyota Garcia is the first in her family to graduate from college
SPRINGFIELD, Mass. – The new Dean of Student Initiatives at Springfield Technical Community College remembers a time not long ago when she was a new student at STCC just trying to figure out how to get to class.
Dr. Kiyota Garcia laughed when she thought back to her first day on campus.
"I was lost the first time I came here. I thought the campus was huge," she said. "There was another student wandering around, looking just as confused as I was. Together, we found our classes."
Today, Garcia might share the story with students who are new to campus and trying to figure out how to get to a building. Or, she might tell a student about the economics class she took with Professor Michael Magala, who is still teaching at STCC.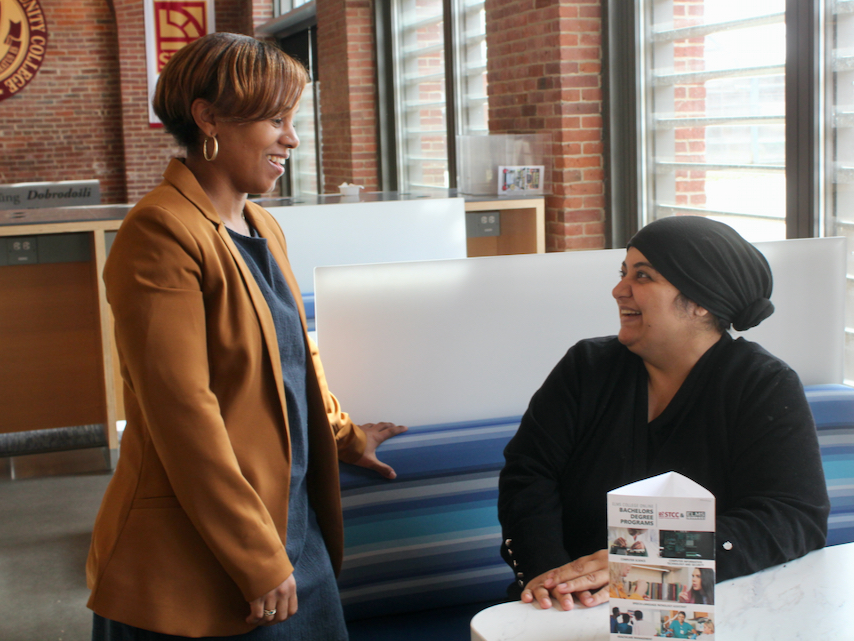 "Economics was not easy for me. I was a psychology major," Garcia said. "I did not deal well with math or numbers. But Professor Magala worked so hard to make sure we were successful in that class. He provided extra time. He was available to answer questions and emails."
Garcia, who was born and raised in Springfield and graduated from the High School of Commerce, took summer classes at STCC when she was pursuing a bachelor's degree at Bay Path University in Longmeadow.
She started working at STCC in 2010, and has taken on various leadership roles over the past 11 years. Recently named Dean of Student Initiatives, Garcia is responsible for administration, leadership and management of services that directly relate to student support.
Garcia relates to students and hopes that her background can inspire them to do their best. Garcia is the first in her family to graduate from college and the eldest of five children. She is now a mom to young children.
"I am Black and I'm married to a Hispanic man," she said. "It's important to have people of color – especially women of color, in leadership positions. STCC is a Hispanic Serving Institution, and we have to do a good job to have the students see someone like them on campus in a leadership role."
Vice President of Student Affairs Darcey Kemp praised Garcia for her ability to connect with students and inspire them.
"I'm thrilled that Kiyota is serving as Dean of Student Initiatives at STCC," Kemp said. "She is a strong leader who cares deeply about our students. She's skilled at connecting with students and working collaboratively with them to achieve their goals. Kiyota is a role model who provides inspiration and encouragement to every student she encounters."
The high touch we do at STCC is unheard of at other institutions. We do so much for our students to help them figure out who they are as a person Kiyota Garcia,

Dean of Student Initiatives at STCC
Garcia had served as Assistant Dean of Student Initiatives since November 2020, after working in an interim capacity since March 2020. Her roles at STCC include Coordinator of Academic Advising, Academic Counselor and adjunct faculty.
She has taught for many years at both STCC and Holyoke Community College. Garcia serves on the Board of Trustees of the Martin Luther King Jr. Charter School of Excellence. In May 2021, she was honored as one of BusinessWest's "40 Under Forty," a program that salutes young professionals in Western Massachusetts.
She completed her undergraduate degree at Bay Path University, and holds a master's degree in clinical psychology and a doctorate of education degree in educational psychology, both from American International College.
Her degrees in psychology have helped her in her advising and teaching positions.
"I love the opportunity to blend both of my loves into one position," Garcia said. "My background in psychology has allowed me to be able to maintain my composure when students are frantically crying and things are escalating, or allowing myself to be able to talk them down when they're freaking out over a test score."
Students might be juggling family and work with their studies. Garcia will lend them a sympathetic ear.
"I'm helping them get through tough times," she said. "I am able to help them cross those hurdles and obstacles."
Garcia oversees programs that help support students. Survive and Thrive, for example, includes sessions focusing on issues such as time and stress management, what to do with a degree and the importance of developing positive social networks, to name a few topics. Students can join live virtual sessions or watch videos on their own time.
STCC also offers a Student Success Center with services such as tutoring and coaching to enhance study and organizational skills as well as self-care strategies.
"The high touch we do at STCC is unheard of at other institutions," she said. "We do so much for our students to help them figure out who they are as a person. They know we don't think of them as a number or just a student. If I see one of my students in the hallway, I might ask about their son or daughter who had been sick, and I know that's why they were out last week. I might ask them about a new job they have or send them a quick text to say, 'Good luck on that quiz you have coming up on Friday.'"
Garcia said she hears from students who don't want to leave STCC because of the one-on-one connections they form.
"I have so many students who say, 'Can't I just get another degree here or stay here to get my bachelor's?' There are things at STCC we have that I feel you're not going to get anywhere else. It's really a community. It's really a big extended family."
Interested in applying to STCC? Visit stcc.edu/apply or call Admissions at (413) 755-3333.
About Springfield Technical Community College
STCC, the Commonwealth's only technical community college, continues the pioneering legacy of the Springfield Armory with comprehensive and technical education in manufacturing, STEM, healthcare, business, social services, and the liberal arts. STCC's highly regarded workforce, certificate, degree, and transfer programs are the most affordable in Springfield and provide unequaled opportunity for the vitality of Western Massachusetts. Founded in 1967, the college – a designated Hispanic Serving Institution – seeks to close achievement gaps among students who traditionally face societal barriers. STCC supports students as they transform their lives through intellectual, cultural, and economic engagement while becoming thoughtful, committed and socially responsible graduates.
MEDIA CONTACT:
Jim Danko, (413) 755-4812, jdanko@stcc.edu