Researching COVID-19 daunting but rewarding for this STCC student
By LAURIE LOISEL
SPRINGFIELD, Mass. – Attending classes, studying and completing degree requirements have been more difficult than Sebastian Sanchez imagined when he came to the United States from the Dominican Republic three years ago. He believes the struggle is well worth the effort.
"I don't want to work in a factory for the rest of my life" is how the second-year Springfield Technical Community College student summed it up in an interview shortly after he finished his finals in December.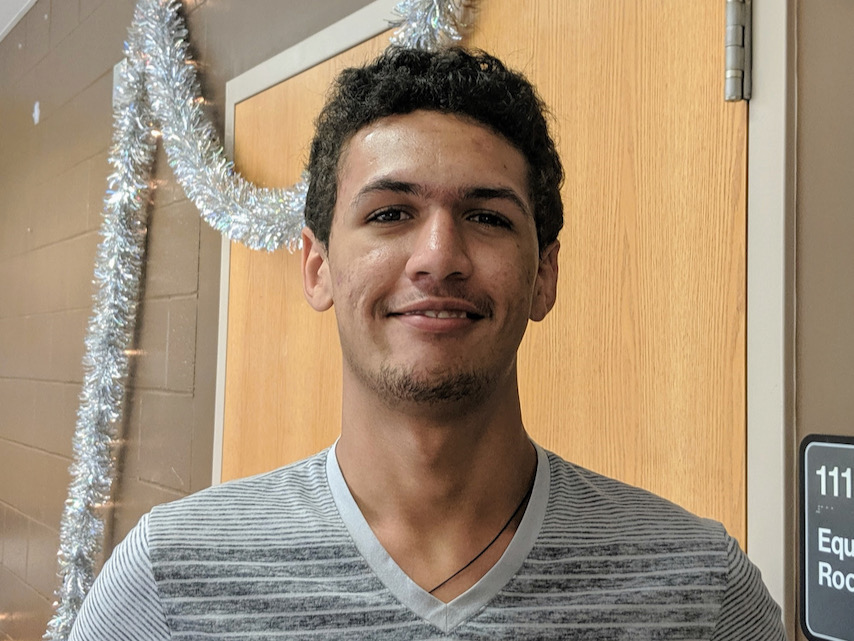 "I know that college is the only path I can take to make something of myself," said Sanchez, a Springfield resident.
Sanchez, 20, is working toward his associate degree in health science and considering pursuing a certification to be a sterile processing technician.
Meanwhile, he has his hands full with classes at STCC. Over the summer he took three courses, including one under the auspices of the STEM Starter Academy, which aims to draw more students to the fields of science, technology, engineering and mathematics. Taking three classes was intense.
The five-week methods course, taught for the last four summers, introduces students to the concepts of quantitative and qualitative research in scientific inquiry and calls for participants to undertake literature reviews for research purposes. The course builds communication skills, which was particularly challenging. It required a final research report in either written or poster form.
"I was nervous," he said of the course.
Students choose their own research topic, and Sanchez settled on the timely subject of coronavirus, completing a research poster titled "Analysis of Factors and Impacts of COVID 19 in Massachusetts." When he took on the subject, he was at first daunted. "I didn't know how it worked," he said of coronavirus. "I didn't know anything about it."
His research objective was to study the dynamics of the emerging COVID 19 pandemic, evaluate disease spread and suggest mitigation strategies.
The most impressive contribution of his research was that Sanchez hypothesized some facets of the COVID-19 during the initial stages of the pandemic, said Dr. Reena Randhir, STCC professor of biology and director of the school's STEM Starter Academy.
Sanchez hypothesized the following:
The rate of spread is non-linear over time;
Multiple factors contribute to the spread; and
Social distancing, testing and wearing masks will help manage the spread.
Professor Timothy Randhir, a University of Massachusetts faculty member who also teaches as an adjunct at STCC, deftly guided him through the research process with encouragement and support. "He helped me a lot – every question I had he was there," Sanchez said.
Reena Randhir (she also happens to be married to Timothy Randhir) agrees that the research methods course is rigorous, packing a great deal of learning into a short period of time. "The students work night and day for five weeks to make it happen," she said. "It's very interactive."
Sanchez said when he got started on the coronavirus research he was overwhelmed and intimidated, but with help from Timothy Randhir, he persevered. He frequently checked in with the professor.
"What should I talk about more? What should I talk about less?" Sanchez asked Randhir, who provided advice that improved the final product.
"I learned more about COVID-19," Sanchez said.
Meanwhile, Reena Randhir encourages all students to submit their work for consideration at the University of Massachusetts Undergraduate Research Conference. The conference draws submissions from students across the state. For last year's conference, 18 STCC students' abstracts were accepted but the conference was canceled due to the pandemic restrictions.
In its 27th year at UMass, the conference, planned for April 23, will be entirely virtual this time around. This year's abstract submission deadline is March 21. Click on this link for more information and to register.
Reena Randhir said the competitive conference represents a good learning opportunity for STCC students and puts them in good standing for whatever it is they plan to do after graduating from STCC by showcasing their research. "This is what employers are looking for – communication, written and critical thinking skills that are developed through this Research Methods class," she said.
Sanchez said he might submit his work. It's another daunting challenge, something else he's never done before. But with help and encouragement, it's an opportunity to meet yet another challenge.
Visit STCC's YouTube channel to watch Sanchez presenting his research. Sanchez also wrote a blog about his research.
Interested in applying to STCC? Visit stcc.edu/apply or call Admissions at (413) 755-3333.
About Springfield Technical Community College
STCC, the Commonwealth's only technical community college, continues the pioneering legacy of the Springfield Armory with comprehensive and technical education in manufacturing, STEM, healthcare, business, social services, and the liberal arts. STCC's highly regarded workforce, certificate, degree, and transfer programs are the most affordable in Springfield and provide unequalled opportunity for the vitality of Western Massachusetts. Founded in 1967, the college – a designated Hispanic Serving Institution – seeks to close achievement gaps among students who traditionally face societal barriers. STCC supports students as they transform their lives through intellectual, cultural, and economic engagement while becoming thoughtful, committed and socially responsible graduates.
MEDIA CONTACT:
Jim Danko, (413) 755-4812, jdanko@stcc.edu