STCC alumni, now married, make an impact on community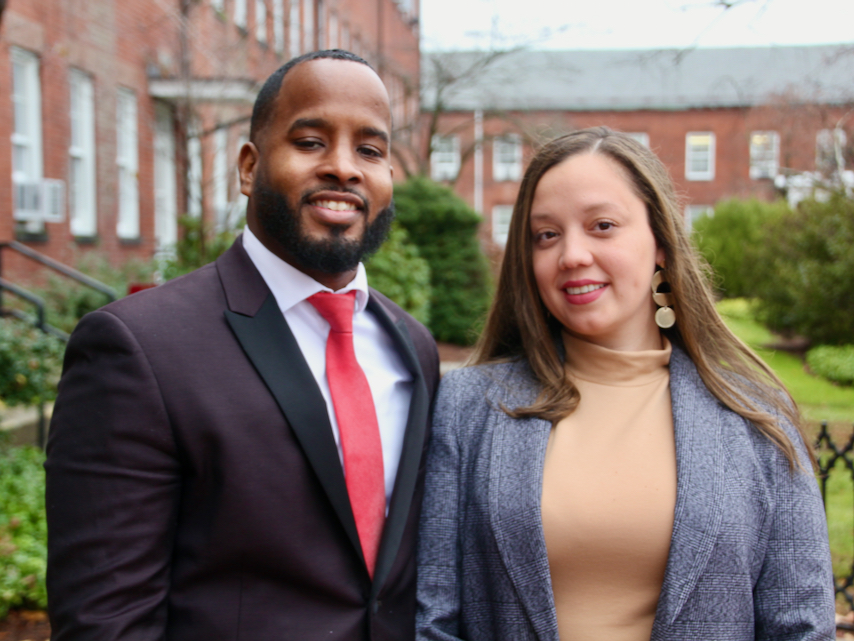 SPRINGFIELD, Mass. – When he decided to go to Springfield Technical Community College, Vilenti Tulloch had no idea how his choice would transform his life in so many ways.
At STCC, he met another student named Yeselie Mascaro, who tutored him. They became not only study partners, but close friends and today are married with three children.
What's more, Vilenti '09 and Yeselie '10 operate a business together called Academic Leadership Association, which is designed to empower youth to make positive changes within themselves and their community through mentoring, literacy, and self-advocacy while addressing their social emotional needs. The program does outreach in schools in Springfield and Holyoke, serving youth and teachers.
The Tullochs express gratitude for all that STCC gave them. STCC was the start of a long journey that brought them where they are today.
"If I didn't start my college career here, I might not have ever even gone to college," Vilenti Tulloch said. "My life could have been so much different. STCC helped create an entrepreneurial spirit and shaped the work that we do."
Added Yeselie Tulloch: "STCC has definitely helped pave the way for our education. It's affordable, and it's definitely a second chance."
Vilenti and Yeselie Tulloch both transferred after STCC and went on to earn their master's degrees. Through their work with the Academic Leadership Association, they hope to make a meaningful difference in the lives of young people in the Greater Springfield region.
"STCC is a really big part of our lives, and I always wanted to come back and give back," Vilenti said. "I have some STCC students I have hired, either through internships or part-time work."
Vilenti looked back fondly at his years at STCC. He played basketball, met his future wife and obtained a degree in general studies.
STCC is a really big part of our lives, and I always wanted to come back and give back. Vilenti Tulloch,

STCC Class of 2009
"Coming out of high school, I don't think I was ready to walk into a four-year program where I'd be in a dorm and on my own handling the course load," he said. "STCC was beneficial in that aspect. You find great people and support. You find mentors. I still see them and still have good relationships with them."
One of Vilenti Tulloch's friends from STCC is Michael Booker, who coaches basketball at the college. They played hoops for the Rams when they were both students. Tulloch stays in touch with Booker and other friends he made at STCC.
Yeselie Tulloch said she had intended on starting at a four-year college or university after graduating from Springfield High School of Commerce. But the tuition and fees at those schools were too high. She chose STCC, which is the most affordable college in Springfield.
She found STCC – which was her mother's alma mater – to be the right choice. Yeselie Tulloch was the first of her siblings to go to college. She studied in the Criminal Justice program with the thought of eventually going to law school. However, she changed her mind on a law degree and transferred to Bay Path University in Longmeadow, where she earned a master's in Business Administration.
Vilenti Tulloch went on to earn his bachelor's degree from Westfield State University and a master's degree in Educational Psychology from American International College.
Together, they had the skills and drive to build out the Academic Leadership Association.
"With Yeselie's background and an MBA, we were able to develop a business plan, a model, and we started contracting with schools in Springfield," Vilenti said. "We started with one school during the pandemic and built it out. Today, we are in 13 schools in Springfield and one in Holyoke."
They have a staff that does daily check-ins at the schools. They offer a range of support, from financial literacy to mental health.
"We are an extension of the school. We're checking in with the classroom. We're providing individual counseling sessions with the students," Vilenti said.
STCC offers similar support services for its students, including MILE (Male Initiative for Leadership and Education) which provides networking, self-advocacy and advising for underrepresented students, and the female Leadership and Mentoring Program known as "LEAD."
Dr. Shai Butler, STCC Vice President of Advancement and Academic Affairs, said the Tullochs are part of a robust alumni community.
"Our mission at STCC is to support students as they transform their lives," Butler said. "Vilenti and Yeselie's experience is a true mission moment. STCC made a difference in their lives, and today they are giving back. I'm proud of them and wish them success in their journey."
Miguel A. Maria, Assistant Dean of Student Initiatives, invited Vilenti Tulloch to speak to MILE students last summer, and a MILE student worked for him.
"I have seen firsthand the work that Valenti and Yeselie Tulloch do with the Academic Leadership Association, which makes a huge difference in the lives of the young people they interact with. And as Alums of the institution, they are a shining example of the positive contributions STCC students make to the campus and their community."
When talking to young people, Vilenti and Yeselie Tulloch might mention STCC and the positive experience they had starting their academic journey which led to successful careers.
"We want to let kids know you may not know what you want to do, and you can go to a community college. It does provide an opportunity," Yeselie Tulloch said. "STCC helped us build a foundation to get to where we are now."
Watch a video of the Tullochs talking about how they met and the impact of STCC on their lives.
To learn more about STCC's Alumni Network, visit stcc.edu/alumni. Contact Eunice Guidry, Manager of Advancement & Alumni Relations, at (413) 755-4475 or emguidry@stcc.edu for more information.
Interested in applying to STCC? Visit stcc.edu/apply or call Admissions at (413) 755-3333.
About Springfield Technical Community College
STCC, the Commonwealth's only technical community college, continues the pioneering legacy of the Springfield Armory with comprehensive and technical education in manufacturing, STEM, healthcare, business, social services, and the liberal arts. STCC's highly regarded workforce, certificate, degree, and transfer programs are the most affordable in Springfield and provide unequaled opportunity for the vitality of Western Massachusetts. Founded in 1967, the college – a designated Hispanic Serving Institution – seeks to close achievement gaps among students who traditionally face societal barriers. STCC supports students as they transform their lives through intellectual, cultural, and economic engagement while becoming thoughtful, committed and socially responsible graduates.
MEDIA CONTACT:
Jim Danko, (413) 755-4812, jdanko@stcc.edu