STCC professor shares memories from Vietnam at Veterans Day event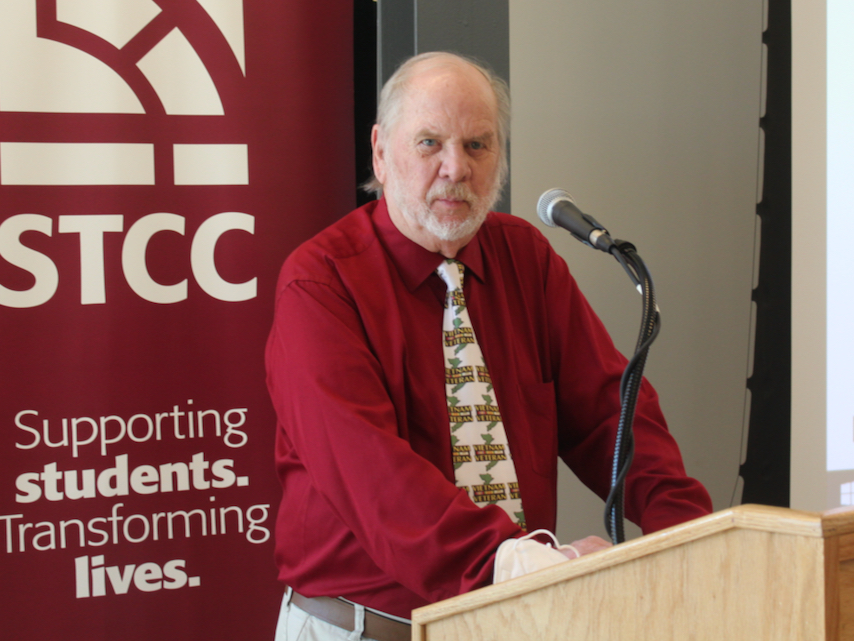 SPRINGFIELD, Mass. – At a Veterans Day event at Springfield Technical Community College, professor Eric Brown shared grim memories of his service as a field medic in Vietnam and described how the wartime experience shapes his work at STCC.
He reminded those gathered in the forum at the Student Learning Commons why many veterans struggle after coming home.
"I do not care how many video games one plays. I do not care how many simulated battles in which one may have participated. One cannot understand or comprehend the horrors and ravages of war until one witnesses it firsthand," said Brown, a professor of Social and Behavioral Sciences at STCC.
The audience at the event on Nov. 10 included STCC President John B. Cook, college staff and faculty and students. STCC held the event a day early since the college is closed on Veterans Day.
When he came home from Vietnam after serving in the late 1960s, Brown chose not to talk about his experience. He kept his silence for 25 years.
"Then one night, during the first Gulf war, I was watching television. They were broadcasting the arrival of soldiers at Westover Air Reserve Base in Chicopee. As they entered the airport, crowds of people were there to greet them. Instead of yelling 'baby killers' they were thanking them for their service," Brown said.
Brown said he slowly started to open up about his personal experience after seeing the respect veterans finally were receiving. He said he was fortunate to have never been put in the position of having to kill someone. But as a medic, he saw his share of suffering and death. He tended to a North Vietnamese man who had been hit by a grenade. As the man lay dying, Brown said he could not think of him as the enemy. "I could only think of him as a human being with wants, desires, needs probably similar to my own."
One cannot understand or comprehend the horrors and ravages of war until one witnesses it firsthand. Eric Brown,

Professor at STCC and Vietnam veteran
Today, Brown teaches a course at STCC called the Psychology of Love. It's a class he developed in part from his post-Vietnam experiences. He didn't understand his purpose for being in Vietnam. What's more, he returned home from the war and received little respect.
"As I pondered and as I read such books as Abraham Maslow's 'Toward a Psychology of Being' and Victor Frankl's 'Man's Search for Meaning,' I came to the conclusion that the only word that could sum up human's potential is love. From that moment on, in my early 20s until now, I have pursued the study of this phenomenon.
"The greatest gift that we can give one another is love. Yet, that gift is so often overlooked with hate," he said.
Brown urged those in attendance to be compassionate, especially around veterans who might be struggling. He asked everyone to listen to veterans without judgment.
"After all, in the final analysis, are we not all brothers and sisters? And should we not all love each other in the same way that we would want to be loved?" Brown asked.
The Veterans Day event, organized by Jasmine Herman from the Academic Advising & Transfer Center, included tables set up by community organizations including Springfield partners for Community Action, the Vets Dragon Team, Springfield City Hall and Veterans Inc. The event included recorded remarks by Akeilee Murchison, veterans counselor at STCC.
STCC is committed to providing veterans and current members of the armed services with support for their academic and personal success. Among STCC's resources is a dedicated Center for Veterans and Service Members.
Visit Professor Brown's blog at STCCy notes to read the full text of his speech.
For questions about veterans services, contact Murchison. Call (413) 755-5343 or email agmurchison@stcc.edu.
Interested in applying to STCC? Visit stcc.edu/apply or call Admissions at (413) 755-3333.
About Springfield Technical Community College
STCC, the Commonwealth's only technical community college, continues the pioneering legacy of the Springfield Armory with comprehensive and technical education in manufacturing, STEM, healthcare, business, social services, and the liberal arts. STCC's highly regarded workforce, certificate, degree, and transfer programs are the most affordable in Springfield and provide unequalled opportunity for the vitality of Western Massachusetts. Founded in 1967, the college – a designated Hispanic Serving Institution – seeks to close achievement gaps among students who traditionally face societal barriers. STCC supports students as they transform their lives through intellectual, cultural, and economic engagement while becoming thoughtful, committed and socially responsible graduates.
MEDIA CONTACT:
Jim Danko, (413) 755-4812, jdanko@stcc.edu