STCC Respiratory Care program lends ventilators to hospitals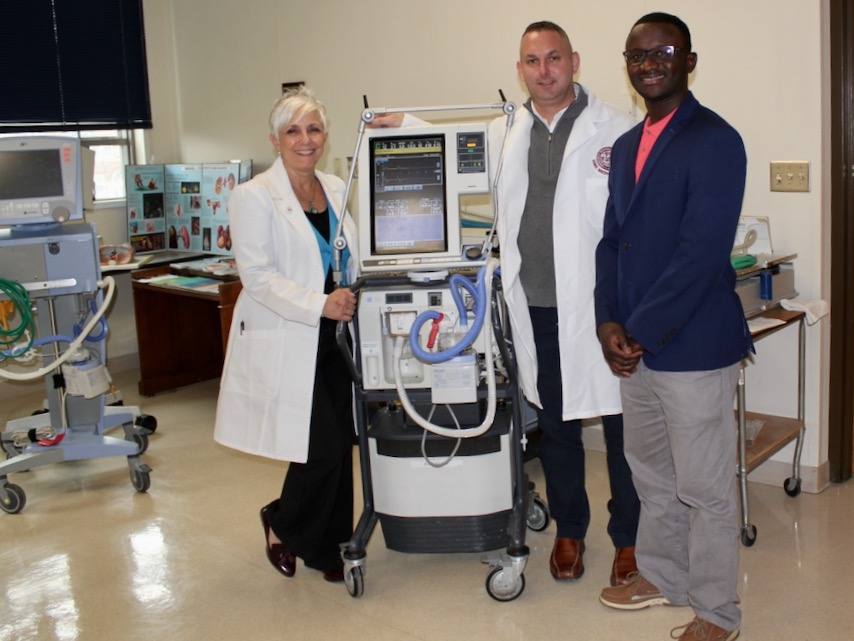 Esther Perrelli Brookes, left, Department Chair, Respiratory Care, stands next to one of the ventilators that was lent to an area hospital. Also pictured are respiratory care faculty Scott M. Frink, center, and Nfamara "Fams" Taal.
SPRINGFIELD, Mass. – Springfield Technical Community College's Respiratory Care program is lending its five ventilators to area hospitals preparing for a surge in patients due to the COVID-19 pandemic.
Christopher Scott, dean of the School of Health and Patient Simulation, said STCC is prepared to donate or lend any equipment hospitals need during the coronavirus emergency. The school recently donated all of its personal protective equipment to area hospitals, medical centers and first responders.
STCC will lend its ventilators to Baystate Medical Center and Mercy Medical Center, both in Springfield, and to Holyoke Medical Center.
"We knew that hospitals are preparing for an influx of patients and will need ventilators," Scott said. "We work closely with Baystate, Mercy and Holyoke on a regular basis. We are grateful for all their support over the years, so we are happy to let them use whatever equipment we have to help their patients."
Scott said STCC respiratory care students have trained on the ventilators, which are the same type the hospitals use.
"Our semester is winding down, and we feel these vents can be put to better use on the front lines in hospitals," Scott said.
Ventilators are used by some patients infected with COVID-19 who have breathing problems. The breathing devices have been in demand since the start of the pandemic. Ventilators are one of the tools used to help some COVID-19 patients.
We work closely with Baystate, Mercy and Holyoke on a regular basis. We are grateful for all their support over the years, so we are happy to let them use whatever equipment we have to help their patients. Christopher Scott,

Dean, School of Health and Patient Simulation
The coronavirus crisis has put a spotlight on the profession of respiratory care. In addition to helping patients with COVID-19, respiratory therapists treat people suffering from a range of chronic respiratory diseases, including asthma, emphysema, pneumonia, cystic fibrosis, sleep apnea and chronic bronchitis.
The two-year associate degree program at STCC trains students in the treatment, management, diagnosis and care of patients with diseases related to the heart and lungs. Training includes the use of therapeutic gases, ventilator support, breathing exercises, aerosol administration, medications, humidification and maintenance of airways.
Graduates of the program can transfer to a four-year college or university to continue their education or begin working at a hospital or other health care facility.
Over the last several weeks, several STCC respiratory care students applied for limited permit licenses to work at area hospitals and help meet the demand to help patients.
Respiratory therapy is one of the fastest growing fields in health care. According to the U.S. Bureau of Labor Statistics, respiratory therapists will continue to be in high demand at hospitals and medical facilities. Projected job growth is 21 percent between 2018 and 2028, which is much faster than the growth rate for all occupations (5 percent).
Interested in applying to the respiratory care program at STCC? Visit stcc.edu/apply. If you have questions about the program, please email Esther Perrelli Brookes, department chair, at eperrelli@stcc.edu
About Springfield Technical Community College
Founded in 1967 and located on 35 acres of the Springfield Armory National Historic Site, STCC is a major resource for the economic vitality of Western Massachusetts. As the only technical community college in Massachusetts, STCC offers a variety of career programs unequalled in the state. STCC's highly regarded transfer programs in business, advanced manufacturing, healthcare, liberal arts, and STEM fields continue to provide the most affordable options for students pursuing a four-year degree. With an annual enrollment of about 7,000 day, evening, weekend, and online students, STCC is a vibrant campus rich in diversity.
For more information about STCC, visit www.stcc.edu. Follow us on Facebook, Twitter (@S_T_C_C) and Instagram (@stccpics).
MEDIA CONTACT:
Jim Danko, (413) 755-4812, jdanko@stcc.edu