"College Now" Dual Enrollment Program
Take a FREE COLLEGE CLASS while you're still in high school!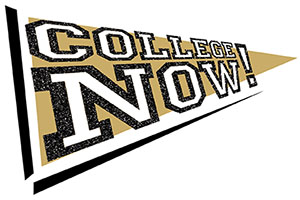 College Now is a dual enrollment program that allows high school and home school students to apply to enroll in one free STCC credit course per semester, during the full fall and spring semesters. Applicants may wish to take a course to fulfill high school graduation requirements or to pursue an academic interest. This program provides college experience for College Now students by ensuring that they have ample opportunities to study alongside college students in STCC courses.
The College Now program offers the following for dual enrollment students:
College level coursework
Classroom experience with STCC college students
Cost savings for college credit
Access to college resources such as clubs & activities, tutoring, fitness center, library services, disability services, and more.
Please note: submission of an application to the College Now program, is not a guarantee that students will be registered into a course, as there are limited seats per course section available to enroll dual enrollment students. Completed applications are reviewed on a first-come, first-served basis.
If a student is accepted into the College Now program but also chooses to register for an additional course during the semester, they will be required to pay for that additional course in full.
Program Eligibility
In order to be eligible to apply to the program, students must meet the following criteria:
Junior or senior status in high school
Minimum high school GPA of 2.0
Cumulative STCC GPA of 2.0 for any previous College Now courses
Program Requirements
Students must submit a completed College Now Application along with a high school or home school transcript.
School Counselors need to complete the Supplemental Form for School Counselors and Home School. This form needs to be submitted in addition to the application. Please submit via email to collegenow@stcc.edu.
College Now students are subject to College policies and procedures.
Students must meet all course prerequisite* requirements. Placement tests may be required for certain courses and must be taken prior to registration.
College Now students are not eligible for federal financial aid. Federal financial aid guidelines require that all financial aid applicants are high school graduates (or have earned their GED/HiSET) and admitted into a degree program in order to be eligible for federal financial aid.
Online, developmental/remedial, ESL, and non-credit courses cannot be taken.
Winter session classes, summer session classes, as well as Fall and Spring "flex term" classes are not eligible for College Now.
Students may only apply for courses within the full Fall and Spring semesters.
Students are responsible for the cost of textbooks and/or any course material fees.
STCC is committed to protecting the privacy of a student's educational records and abides by the Student Information Privacy Policy regardless of a student's age. Information regarding this policy can be found on the STCC Student Information Privacy Policy page.
* A prerequisite is a specific course you must complete before you can take another course at the next level.
Applying to the College Now Program
Application Deadlines
| | |
| --- | --- |
| Fall semester | July 1 |
| Spring semester | December 1 |
Complete the and choose three-course options with your school counselor.
A school counselor or designated school official must sign the application. Homeschooled students must have their application signed by their school district superintendent or school district official, as well as submit a home school curriculum approval letter.
Students must meet all course prerequisite requirements. A student may be required to take a placement test prior to registering for the course. Students can view prerequisite requirements by viewing the course description from the schedule of classes.

Submit your application to the Admissions Office via email to collegenow@stcc.edu in a pdf format or via fax at 413-755-6344. Applications can also be dropped off in-person to Building 19, Room 168.
All applicants will receive an email communication to notify them as to whether or not they have been admitted to the program.
Students are responsible for paying for any additional course fees, if applicable.
Placement Test Information
The placement test includes a math, reading, writing, and keyboarding component.
1. Visit the Admissions Office to receive a student ID#
Bring photo ID
Bring completed College Now application with high school or home school transcript
2. Visit the Testing & Assessment Center in the Ira H. Rubenzahl Student Learning Commons (B19) / room 238
Testing takes approximately two hours
The Testing & Assessment Center accepts walk-ins on Monday 8 a.m. to 2 p.m., Tuesday through Thursday 8 a.m. to 5 p.m., and Friday 8 a.m. to 2 p.m.
Questions? Contact the Testing & Assessment Center at 413-755-4709.
3. After you complete testing, bring the paper results back to Admissions. Admissions will match the placement results with your application and continue the review process.
Please be advised that dual enrollment students are not permitted to retake placement tests.
It is strongly advised that students prepare for placement testing prior to taking the tests. Information on placement testing as well as practice questions can be found here: Placement Assessments
Transferring College Now Course Credits
If you plan to transfer your College Now credits to another college or university after you graduate from high school or home school it is highly recommended that you speak directly to the transfer college regarding their transfer policies. Most colleges have a minimum grade requirement for transfer courses.
To obtain an official transcript of your College Now course credits you must request an official transcript from the STCC Registrar's Office. You can order your transcript online, by mail, or in person.
Withdrawing from a College Now course
Students who are not performing well academically may withdraw from the class to avoid having a poor grade on their transcript. A low Grade Point Average (GPA) can affect a student's future federal financial aid eligibility, so it is very important to withdraw from the course if you believe you are in danger of failing. Please keep in mind that students must withdraw before the deadline date. Please contact the Registrar's Office at 413-755-4321 for more information.
Please be advised that withdrawal from a course may potentially impact financial aid eligibility in the future.
Transportation
You must provide your own transportation. Information on how to obtain a free virtual parking permit or a free PVTA bus pass is available on the Parking and Transportation page.
Advanced Manufacturing Career Pathway
Students attending West Springfield High School are eligible to earn college credits and work towards an Advanced Manufacturing Degree at an accelerated rate all while earning their high school diploma. Visit the STCC Advanced Manufacturing Career Pathway page for more details.