"College Now" Dual Enrollment Program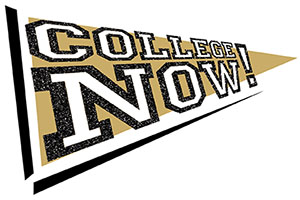 College Now is a dual enrollment program that allows Springfield Public School students to apply to enroll in one free STCC credit course during the Spring 2022 semester. Applicants may wish to take a course to fulfill high school graduation requirements or to pursue an academic interest.
Important Program Update (9/15/2021)
The College Now program will run in Spring 2022 in continuing partnership with Springfield Public Schools.
Program Eligibility
Students must meet the following requirements to apply:
Active junior or senior status within Springfield Public Schools.
Minimum high school GPA of 2.0.
If a student has completed coursework with STCC previously, they must also have a minimum GPA of 2.0 with the college.
How to Apply
Application Deadline for Spring 2022 – December 1st, 2021
The application link will be provided to school counselors in SPS partnering schools. Interested students should contact their school counselor to discuss eligibility, course options, and obtain the link to submit an application. In addition to the application, applicants must submit their current high school transcript, which should reflect current high school grade and/or graduation year as well as high school GPA. Transcripts can be submitted via email to collegenow@stcc.edu.
Applicants under the age of 18 will need parent/guardian consent on their applications.
Taking Additional Classes
Students continue to have the opportunity to register for courses at STCC through the Registrar's Office, as a non-degree student if they are ineligible for the College Now program or wish to take additional courses. Please be advised that they will be responsible for paying for any courses they register for as a non-degree student, as well as any additional costs for books, supplies, and fees (if applicable). Should any students be interested in this option, they can complete the Non-Degree Student Application. Non-degree students are not eligible for financial aid.
Transferring College Now Course Credits
If you plan to transfer your College Now credits to another college or university after you graduate from high school or home school it is highly recommended that you speak directly to the transfer college regarding their transfer policies. Most colleges have a minimum grade requirement for transfer courses.
To obtain an official transcript of your College Now course credits you must request an official transcript from the STCC Registrar's Office. You can order your transcript online or by mail.
Contact
Should you have any questions, please email collegenow@stcc.edu.