"College Now" Dual Enrollment Program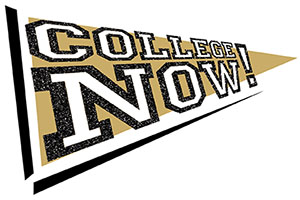 Important Program Update
(11/16/2020):
On June 1, 2020, STCC announced the decision to move the majority of classes to an online format for Fall 2020. Please be advised that this format will continue through the Spring 2021 semester. Due to this change, STCC's College Now program will be working in a limited capacity, in partnership with a small number of schools within the Springfield Public School system.
Students continue to have the opportunity to register for courses at STCC through the Registrar's Office, as an undeclared student. Please be advised that they will be responsible for paying for any courses they register for, as well as any additional costs for books, supplies, and fees (if applicable). Undeclared students are not eligible for financial aid. Should any students be interested in this option, they can visit the Registrar's webpage, or contact the Registrar's Office at registrar@stcc.edu.
Should you have any questions, please email collegenow@stcc.edu.
Transferring College Now Course Credits
If you plan to transfer your College Now credits to another college or university after you graduate from high school or home school it is highly recommended that you speak directly to the transfer college regarding their transfer policies. Most colleges have a minimum grade requirement for transfer courses.
To obtain an official transcript of your College Now course credits you must request an official transcript from the STCC Registrar's Office. You can order your transcript online, by mail, or in person.
Advanced Manufacturing Career Pathway
Students attending West Springfield High School are eligible to earn college credits and work towards an Advanced Manufacturing Degree at an accelerated rate all while earning their high school diploma. Visit the STCC Advanced Manufacturing Career Pathway page for more details.