STCC biotechnology program wins 'Gold Level' endorsement
SPRINGFIELD, Mass. – Graduates of the biotechnology programs at Springfield Technical Community College are well-prepared for careers in the life sciences, according to a leading science education organization.
The organization, Massachusetts Biotechnology Education Foundation (MassBioEd), endorsed the biotechnology associate degree and certificate programs at the "Gold Level."
MassBioEd concluded that graduates of the degree and certificate programs "are ready for the life sciences workforce."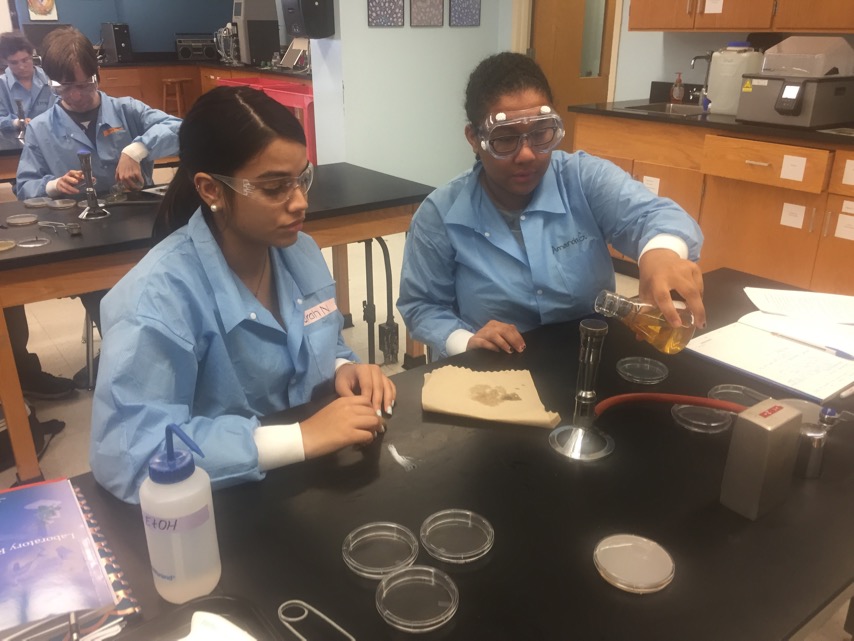 "As the life sciences, and biotech in particular, expand in Western Massachusetts, it is clear STCC is positioned to respond to workforce needs," said STCC President John B. Cook.
The STCC program met the core competencies defined by biotechnology industry and academic leaders who worked with MassBioEd, a nonprofit organization with a mission to build a life sciences workforce in the region through educational programs that inspire students and engage teachers.
Core competencies required for endorsement include following good laboratory practices, lab techniques and exhibiting appropriate workplace behaviors, among other requirements.
Graduates from STCC's biotechnology program will find themselves in demand for jobs in a growing field. The industry trade group Massachusetts Biotechnology Council (MassBio) released an annual report in November that reveals Massachusetts has more jobs classified as Biotechnology Research and Development than any other state. Biotech R&D employment grew by 9 percent in 2016. Employment in the biotechnology and pharmaceutical industry has grown 28 percent since 2007, according to the report.
As the life sciences, and biotech in particular, expand in Western Massachusetts, it is clear STCC is positioned to respond to workforce needs. John B. Cook,

STCC president
"Graduates of your programs are ready for the life sciences workforce. With nearly 12,000 new life sciences industry jobs being projected over the next five years in Massachusetts, our intention at MassBioEd is to effectively convey to hiring managers throughout the region's life sciences industry that your graduates are well-prepared for biotechnology technician positions," MassBioEd Executive Director Peter J. Abair stated in a Jan. 5 letter to STCC.
"We are honored to receive this recognition, which reflects our commitment to supporting students," said Professor Lisa Rapp, Biotechnology Department chair at STCC. "Our program is designed to prepare students for the life sciences workforce. Since 2012, we have received $375,000 in grants, which has allowed us to acquire state-of-the-art equipment and supplies. Students learn techniques used in the biotech and pharmaceutical industries."
The STCC biotechnology associate degree program offers options to either transfer to a four-year program to complete a degree in any of the biological sciences or start a career after graduation.
Graduates who complete the career option are qualified for a variety of jobs such as laboratory assistant, laboratory technician or manufacturing technician.
The biotechnology certificate of completion enables students to acquire skills in one year and can benefit students who already have a science degree but lack the necessary hands-on lab skills for industry employment.
To learn more about STCC's biotechnology program, visit www.stcc.edu/biotech. If you're interested in applying or have questions, call Admissions at (413) 755-3333.
###
About Springfield Technical Community College
Founded in 1967 and located on 35 acres of the Springfield Armory National Historic Site, STCC is a major resource for the economic vitality of Western Massachusetts. As the only technical community college in Massachusetts, STCC, a designated Hispanic Serving Institution and an Achieving the Dream Leader College, offers a variety of career programs unequalled in the state. STCC's highly regarded transfer programs in business, engineering, liberal arts, science and technology continue to provide the most economical options for students pursuing a four-year degree. With an annual enrollment of more than 7,700 day, evening, weekend and online students, STCC is a vibrant campus rich in diversity.
For more information about STCC, visit www.stcc.edu. Follow us on Facebook and Twitter (@S_T_C_C).